When Gary Met Horace
15 August 2019
Last week a post arrived in my feed from the sage Gary V. In it he reports being asked for his advice on how to make sure that you pick the right social channel on which to build your brand. His advice? Don't put all your eggs in one basket.
One short post encapsulates the issue so many of us old-fashioned planners have with the know-it-all digiterati.
First, the very idea that it's somehow a given that to build a brand (or even your brand) it's mandatory to select one channel and ignore all others.
Next that the relationship between brand and channel is so close that one cannot survive the decline of the other.
Finally, that success can only be seen as being achieved over the short-term. Who cares about the long-term?
But then again, the question that Gary says is one shared by many who attend his appearances does have a grain of truth within it.
And that is that within media planning (and advertising more generally) there are many examples of rule-breakers becoming successful in large part because they break the rules.
Once upon a time I used to take a presentation around clients with our agency's creative director, the late great Allen Thomas. The point of the presentation was to highlight glorious exceptions to certain 'golden rules'. We would say something like: 'TV is all about the combination of sound, colour and motion' before showing a reel of ads that were black and white, silent, or comparatively static.
Or 'it's impossible to represent colour within a radio ad', before playing a Crown paints campaign that used different styles of music to represent colours.
Or 'size and layout are all important in press campaigns' before highlighting this from the estate agent Roy Brooks.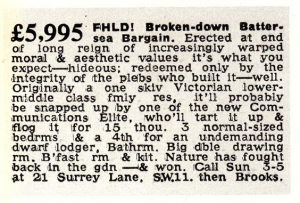 The idea was to try to get people to think outside the box, not to expect stereotypical ads from us, but to celebrate those creatives, and those clients who believed in doing things differently.
We all know that combinations of media forms work better than a campaign limited to a single channel. But that's not to say you can't create memorable brands on one channel.
After all, Perrier was launched in the UK on a solus out-of-home campaign with a budget of £25,000.
And back in the 1950s and 1960s a man called Horace Batchelor launched and promoted his Infra-Draw method, designed to win on the football pools via ads and sponsorships on Radio Luxembourg.
I don't suppose Horace cared a great deal for reach, frequency and audience statistics, in fact back then I don't think Radio Luxembourg were renowned for their audience measurement expertise.
He did what he felt instinctively was right, and it gives me enormous pleasure to bring you, here, his creative work, starring (naturally) himself.
Most people who remember Horace Batchelor are my age or older (so, very old indeed). But if you happen to meet one of us, doddering around muttering to ourselves about the good old days here's a way to bring a smile to our faces.
Ask us to spell a suburb of Bristol called Keynsham.
I'm pretty sure that the only people who can ever do that either live in Keynsham or remember Horace Batchelor.
Branding on a single channel can work; and can live on. Horace Batchelor's Radio Luxembourg campaign ran in the 1950s and 1960s. He died in 1977.
It's just that its more likely to work better if you're able to spread your message across multiple channels and multiple platforms.